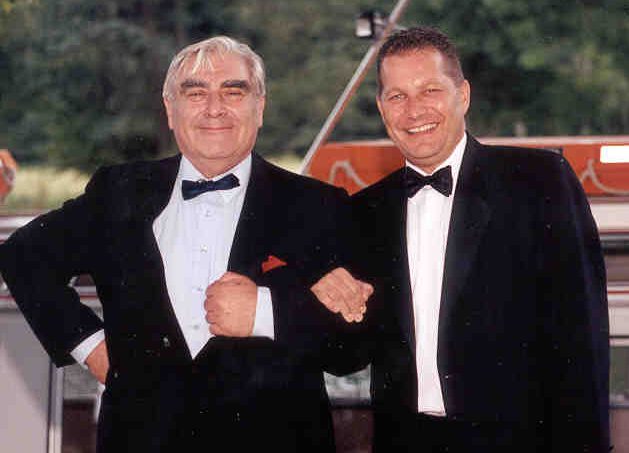 3rd November 2017
A Sad Farewell To Alan Peters
Alan John Peters, Lead Violinist, Producer and Impresario sadly died on the 2nd November 2017. He died in hospital having been ill for sometime, finally losing his battle with dignity and grace.
He was a great friend to the One Media team and in particular our CEO Michael Infante with whom he had shared a professional and personal friendship for over 25 years.
Alan Peters was a violinist who started life playing in the military going on to play with many of the leading London Orchestras. He was a member of the Royal Philharmonic Orchestra, the London Philharmonic Orchestra, a member of the Philharmonia Orchestra and was leader of the Royal Opera House, (Covent Garden) Ballet Orchestra.
As an independent record producer Alan Peters recorded hundreds of music tracks both classical and easy listening.
His discography is here https://www.discogs.com/artist/2721306-Alan-Peters-5
After Alan retired from performing he acted as Producer for the worlds largest set of recordings with one Orchestra (The Royal Philharmonic Orchestra) between 1992 and 1997 recording over 150 albums at CTS Wembley, many receiving critical acclaim. He gave emerging young talent the opportunity to shine as soloists and worked with the world's best-loved conductors, including Sir Charles Mackerras, Yheudi Menuhin OM KBE and Carl Davies CBE. His recording of Peter and the Wolf with Sir John Gielgud became legendary. Selecting soloists was "a joy" Alan was quoted as saying and the list of the good and the now great ranged from Jonathan Carney (violinist) Ronan O'Hora and Howard Shelly (Pianist) and Carlos Bonell (classical guitarist).
In his later years with wife Penny, Alan enjoyed his holiday residence in the French countryside, dining with friends and embracing opportunities in the licensing of his recordings to the music industry at large. He was a very well liked man with a wide circle of music industry associates that in Alan's own words said "their all dying off and who will be left to play the damn music". He could spell bind an audience over lunch dinner or tea with his stories.
The world just lost another 'great', within the world of classical music this tends to go unnoticed. So we say "raise a glass (of red wine) and salute Alan John Peters" fondly known as the 'Duke of Barnes' named after his recording studio there and wish him well with reorganising the celestial orchestras above, as again in his own words "the gates to heaven are open when you listen to the classics".
Cards of best wishes and sympathy would be appreciated from our industry. Please send to One Media, Pinewood Studios, Pinewood Road, East Props Bld, Iver Heath, Bucks, SL00NH (attn. Penny Peters)
Our company represents all Alan's recordings and will continue to look after his musical interest.
The funeral will take place on Tuesday 12th December
Hither Green Crematorium, Verdant Lane, Se6 1tp Tel: 020 8314 3210
Contact Information:
​Funeral Directors   ​Valentine & Turner​, 262 High Street, Orpington, BR6 0NB Tel: 01689 798 448
Email: info@valentineandturner.com