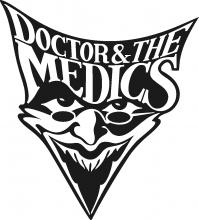 1st March 2018
Poezest Hits The West End
The legendary Doctor & The Medics stars in Poe Zest at London's Bloomsbury Theatre on 16th & 17th March 2018
The Doctor from Dr & The Medics plays every single character in Poe Zest – Edgar Allan Poe : Reimagined by Mike Bennett. The reworks of Poe against a backdrop of orchestrated goth music.
Book your tickets here – https://www.thebloomsbury.com/event/run/17070
The Medics take their place on stage as virtual characters in tandem with the multimedia stage production.
The talking book reimagines the works of Poe and has a particularly creepy take on The Black Cat and the legendary poem The Raven. with creepy background music by Guy Cavill, this piece of work is a must for fans of this genre.
Poezest is a fabulous audiobook written by Mike Bennett, ex Rik Mayall writer and producer of The Fall, Ian Brown Jah Wobble and Intastella. The show now comes to life right here in London.
A theatrical multimedia presentation containing the work of legend Edgar Allan Poe, as reimagined by Mike Bennett. This macabre surreal tale of murder, mystery and Machiavellian intrigue, brings together many of the elements that have inspired the Doctor throughout his career.
Clive, The Doctor immerses himself into a Dark, Gothic landscape and indulges in characters and narrative that are not without humour. All of which appeals greatly to a man inspired as he has been throughout the years by such sinister and visionary works, indeed he is ready to be….. POEZEST!!!
Watch the trailer – https://www.youtube.com/watch?v=tzqhl3cIYVQ
Already available as an audio book, paperback and digital book, purchase the book here : http://amzn.to/2AR67Pa
The show opens at the Bloomsbury in March for a limited season only. Don't miss it.