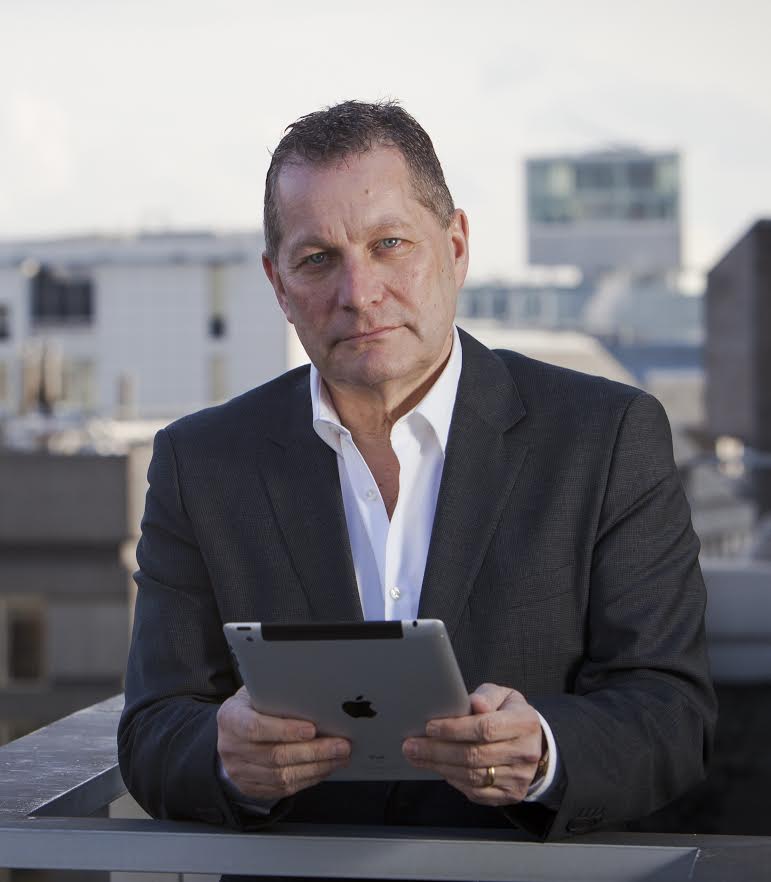 13 May 2020
News Update Bulletin May 2020

How is lock down doing for you? Me – stir crazy and looking out of my study window at home wishing I were back in my office (never thought I would ever say that!) But the thing is, that unlike so many people caught up in this crazy situation (and that's the commercial world as we know it) I will have a job and an industry to go back to.
Sure it will be different for a while (a long while), but we can cope with different. Collapse is not something any of us digital marketeers are even considering. We all know 'different'. Let's face it; we have seen it hit us badly straight between the eyes over the last 15 years. The change from physical to downloading, the transformation from downloading to streaming and now the variation from being centrally based with colleagues to being remotely based working solo. But we have and will survive it all. The reason is obvious, for as long as 'wandering minstrels' sang their 'tales of woe/joy' thousands of years ago, there has been a music business and always will be, albeit formats have changed. Currently those wandering minstrels are call Amazon, Apple and Spotify and others. And they wander globally singing your songs!
The music industry states our situation in the digital world is 'so far so good'. Yes there is disruption and streaming habits have changed but not withered away. It's not Armageddon. We have temporarily lost the streaming income attributed to the daily commute, but as people become 'home based' we have picked up new streaming customers. And importantly new subscribers. The metric to watch is the number of new subscribers not the number of streams. We want paying customers and so far that is improving.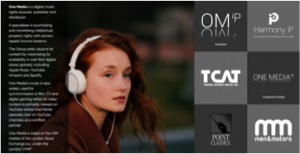 One Media website news. We have improved our web site appearance and landing page experience and have covered more of the services that One Media is now pioneering, from TCAT to Harmony IP. Check out our six microsites here: www.onemdiaip.com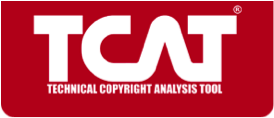 Technical Copyright Analysis Tool (TCAT)
We continue to work on the commercialisation of our in-house developed antipiracy software TCAT. Market interest is growing, especially in the current conditions. We continue to develop the real time data element, fingerprinting and the cost efficiency of TCAT. The data amassed has many applications, copyright infringement, current and historical industry chart information, global music track data, territorial music trends for gig planning and more, which we believe will benefit all our licensors and affiliated users in the future. Check out www.tcat.media

Harmony iP – Equity Release
Don't want to sell your entire catalogue? – Sell us a portion on our new equity release program. This is Harmony iP which exchanges a portion of your rights ownership, in return for a lump sum payment calculated as a percentage of the agreed total value of your iP income going forward. Added to the equity release, you continue to receive royalties for your remaining percentage of rights. See our video at www.harmonyip.com
During the first 8 weeks of international lockdown we thought you would like a quick snap shot of the industry at large and what is happening with your digital music retailers.
Amazon Music – The uptick in home consumption has outweighed the decline in other areas such as commuting. This has resulted in an overall increase in consumption.
Apple Music – Despite current macroeconomic conditions, Apple proceeded with its major expansion and launched its music streaming service in 52 new countries, predominantly in Africa, Latin America and the Caribbean on the 21 April. Additionally, it noted in its Q2/20A trading update that its Apple Music division set all time revenue highs and paid subscriptions were up double digits year on year.
Netflix – Recently announced it had added 15.8m new subscribers in Q1/20, more than double the forecasted number. We caution that the new subscriptions run on a monthly basis and were partially driven by current lockdown measures. However, we expect a portion of the new subscribers to remain post COVID-19.
Spotify – Recently released a Q1/20 trading update and noted that subscribers had grown 31% year on year to 130m. Additionally, despite a small drop in car, wearable, and web platform usage, it had seen significant increases in TV and Game Consoles (c50%) and connected devices (c40%) among Ad-Supported users globally. Spotify data has shown an increase in demand for nostalgic tracks, a segment of the market in which One Media specialises. This has resulted in streaming volumes rising for the 50s/60s/70s and 80s eras.
We believe the recent increase in subscriptions and consumption could improve financial performance in the short-term and may lead to structural changes in how people consume music. The current increase in demand at home and recreation driven by the current restriction on movement, may have a lasting positive impact on consumption patterns.
We hope for us all that the global streaming growth trend will persist into H2 of 2020. 
So keep safe, stay indoors for the moment and let your music do the talking.